---
About Golf in Thailand
Those of you who have not experienced golf in the kingdom of Thailand have not really enjoyed golf at its best. Not only golf courses here match the best courses in other parts of the world, but the combination of several factors makes Thailand a paradise for golfers.

Thailand is also called the 'country of smile', it is because the people are so welcoming and kind. This is also true with the staff of a course and especially with the caddies. Most Caddies are women who have a perfect knowledge of the course and green's slopes. Some men can also be caddies, and usually are very good golfers with a low handicap.
Both women and men are very polite, and patient, and are a great help during the game. Don't forget that they carry your bag in the sun for almost four hours, so they deserve a tip at the end. Usually 250 to 300 bahts (€ 5 to 6) are considered enough, but you are free to give what you want. Do not confuse the 'caddie fee', which is collected partly by the golf club with the tip that you give directly to the caddie. Caddies earn a part of the caddie fee but no wages from the golf club.

Something specific to golf courses in Thailand is that every three holes you will find a kiosk where you can get refreshment, food and drinks and cold towels. Most of the year you will only consider this to be a natural complement to your game.

The last point is the perfect layout and state of the courses. All of the courses are well maintained and greens are manicured. When you walk along you can look at the beautifully landscaped tropical forest that generally surrounds the course.
---
Golf Courses around Pattaya*
* This website is still under construction, that is why some golf course data is not yet available.
** This golf course is closed to public since December 2006.

---
Map (Click on golf course for further details)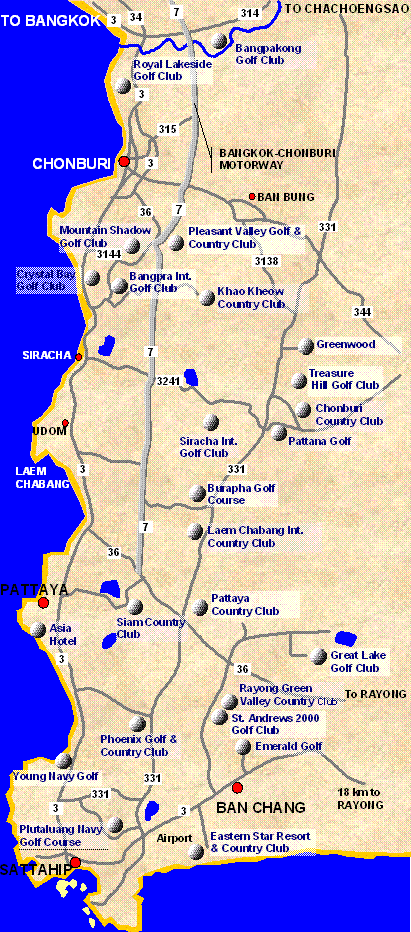 ---
Copyright © Malee Residence Co., Ltd. All rights reserved 2005-2021.
Swing and Sand Co., Ltd., 389/108, Moo 12, Pratamnak, Soi 4
Nongprue, Banglamung, Chonburi, 20150, Thailand
Tel/Fax: +66 (0) 38 306 447- Mobile: +66 (0)8 68 45 22 63 -

Discover the Golf in Thailand and more especially the Golf in Pattaya with Swing and Sand.